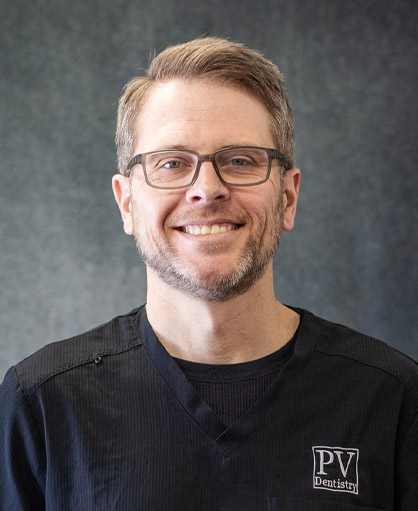 Dr. Harold Henderson, DDS
Dentistry is a dream come true for Dr. Hal Henderson. "Every day I look forward to the opportunity to work with people to help create and maintain beautiful and healthy smiles!" Dentistry is a second career for Dr. Henderson. He worked briefly with software but found that his favorite aspect of the job was not working with computers, but with other people. Dentistry was something Dr. Henderson had been interested in for a while, and the opportunity to work directly with patients one-on-one with a caring staff seemed like the perfect profession to him.
Dr. Henderson was trained at the prestigious Arthur A. Dugoni School of Dentistry in San Francisco. In addition to his dental school duties, he participated in student leadership as Class Vice-President, and later as Class President. His love of working with other people shone through, and he was awarded the Dr. Thomas R. Bales Good Samaritan Award and the Kevin J. Campbell School Service Award. He was also a member of the Aesthetics Club and Dental Ethics Club. He also found a love for implant dentistry, a great option for replacing missing teeth.
Dr. Henderson also completed a General Practice Residency at the medical center in Jackson, Mississippi. "I was really able to see how crucial dentistry is to our overall health. The mouth really is the gateway to the rest of our body." There he also continued his work in implant placement and restoration. In the residency, Dr. Henderson furthered his knowledge in all aspects of general dentistry, including fillings, crowns, bridges, root canals, extractions (including wisdom teeth removal), gum surgery, and orthodontics
Dr. Henderson is now excited to be part of the PV Dentistry team. He has a passion for patient education and making patients feel very comfortable about any decisions they make. "I want patients to know that you won't find a more caring team anywhere, than right here at PV Dentistry."